Dr. Barbara M. Medina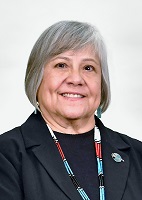 Northern New Mexico College

Dr. Bárbara M. Medina comes to the Office of President at Northern New Mexico College with a background in teaching and administration.
She is a graduate of Coronado High School (Gallina), taught at St. Catherine's Indian School (Santa Fe), and completed her masters degree at St. John's (Santa Fe). She has been actively involved in language and literacy for diverse populations, cultural and linguistic diversity, and school reform at district, state and national levels.
She began her career serving students in a rural migrant summer program, then as a social studies classroom teacher and Coordinator of Secondary Second Language Programs. After completing her doctorate in Educational Policy at the University of Colorado, Boulder, she became a professor and Department Chair of Teacher Education at Adams State College, Alamosa, CO. Recruited to serve as Director of Language, Culture, and Equity at the Colorado Department of Education, she then became Assistant Commissioner.
Her accomplishments include the renegotiation of the modified consent decree with the U.S. Office of Civil Rights for the Denver Public Schools, consulting with the Interstate Migrant Education Council, development and implementation of federal grants, and membership in a National Academy of Science research group. She was an associate with the Migration Policy Institute-Washington DC.
Dr. Medina's board service includes the Christine Duncan Heritage Academy Board, the Colorado Association of School Executives and Education Specialists, the Colorado Association of Bilingual Education as well as the City of Denver's Denver Human Rights Council and Latino Commission.