Dr. Richard Bailey, Jr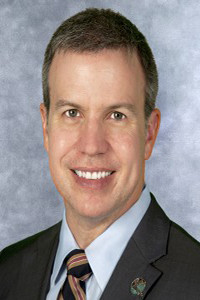 Northern New Mexico College

Dr. Richard J. Bailey, Jr. serves the students, faculty, staff and community as the president-elect of Northern New Mexico College. He and his wife Diana will join the Northern family in October 2016, after a twenty-four year career in the United States Air Force.
Dr. Bailey received a Bachelor of Science degree in Engineering Sciences from the U.S. Air Force Academy, a Master's Degree in International Affairs from Washington University in St. Louis, and a doctorate in Government from Georgetown University in Washington, DC.
Before assuming the presidency at Northern, Dr. Bailey served as associate professor of strategy and security studies at the School of Advanced Air and Space Studies at Air University, Maxwell Air Force Base, Alabama. He also served as the school's first-ever Dean of Students.
Prior to his position at Maxwell, Dr. Bailey served as Commander of the 429th Expeditionary Operations Squadron at Forward Operating Locations (FOLs) in Curaçao and Aruba. As commander, he directed all support of multi-national aircraft operations that conduct detection, monitoring and tracking missions for counter-drug efforts in the region.
Dr. Bailey received his commission in the U.S. Air Force in 1992. After completing Undergraduate Pilot Training, he served flying tours in the C-9A, C-141B, and UV-18B aircraft and has been an aircraft commander, instructor pilot, and flight examiner. He retired from the Air Force as a command pilot with over 3,500 flying hours.
After completing his PhD in 2006, Dr. Bailey served as a defense trade analyst at the U.S. State Department. He later served as Chief Air Operations Officer at the NATO Joint Force Command Brunssum in The Netherlands, where he oversaw air operations efforts for the International Security Assistance Force (ISAF) mission in Afghanistan.
In 2014, Dr. Bailey was elected the first President of the Air University Faculty Senate, advising senior leaders on all issues pertinent to the university's 600+ faculty members. He is the only faculty member in the university's history to receive both the Faculty Excellence Award, given annually to the highest rated faculty member at the university, and the Muir S. Fairchild Award, for the most outstanding contribution to Air Force Education.
Dr. Bailey's publications and presentations include:
2016 – Strategy: Context and Adaptation from Archidamus to Airpower. Co-editor and contributing author. (Annapolis, MD: Naval Institute Press, 2016). http://www.amazon.com/Strategy-Adaptation-Archidamus-Airpower-Transforming/dp/1682470032
2016 – "Four Dimensions to the Digital Debate: How Should We Think Strategically About Cyberspace and Cyberpower?" Presented at the International Studies Association and the International Security / International Safety Conferences.
2016 – "National Security Strategy: Coping with Complexity." Keynote Address to the National Security Week Forum, Dadeville AL.
2016 – "Strategic Thinking and Design." Three-day seminar. Special guest lecturer and educator for the Royal Thai Air Force's Air War College and senior military leadership (in coordination with the US Embassy). Bangkok, Thailand.
2016 – "Dilating Pupils: The Pedagogy of Cyber Power and the Encouragement of Strategic Thought." Air and Space Power Journal - Africa & Francophonie, Volume 7 Issue 3, Fall 2016. Presented at the American Political Science Association Teaching and Learning Conference, Jan 2015, and the International Studies Association (ISA) National Conference, Feb 2015. http://www.au.af.mil/au/afri/aspj/apjinternational/aspj_f/article.asp?id=185
2015 – "Redefining the Struggle: Why the Baltics are Important to the Development of Strategic Thought Regarding Cyberspace and Cyber Power." Chapter in The Baltic Security Puzzle, ed. Mary N. Hampton and M. Donald Hancock (Lanham, MD: Rowman and Littlefield, 2015). http://www.amazon.com/Baltic-Security-Puzzle-Democratization-Authoritarianism/dp/1442248521
2014 – "Fighting More Fires With Less Water: Conceptualizing Phase Zero Operations with Modified Operational Design." Co-authored with Dr. Tyrone Groh. Joint Forces Quarterly, Issue 77, 2nd quarter 2015. http://ndupress.ndu.edu/JFQ/JointForceQuarterly77.aspx
2014 – "You Can't Take the Human Factor Out of Warfare." Opinion-Editorial. US News and World Report. 17 Oct 2014. http://www.usnews.com/opinion/articles/2014/10/17/the-ironic-moral-logic-of-drone-warfare
2014 – "Cyber Strategy and its Effect on the Future of Airpower." Presented at the Alabama Political Science Association Annual Conference. Huntingdon College, Montgomery AL.
2013 – "The Power of Information and its Effect on Cyber Strategy." Presentation to the Consortium for the Advancement of Cyber Thinking and Strategy. Maxwell Air Force Base, Montgomery, AL.
2006 – Integration in the Ranks: Explaining The Effects of Social Pressure and Attitudinal Change on U.S. Military Policy. Doctoral Dissertation. Georgetown University.
2005 – "Interstate Competition in State K-12 Education Policy: A Race to the Top?" Georgetown University. Co-Authored with Dr. Mark Carl Rom. Presented at the Southern Political Science Association Conference.
2005 – "The Push-Pull Phenomenon: Projection and Political Involvement Among Presidential Campaign Donors." Georgetown University. Poster presented at the American Political Science Association National Conference.
2004 – "Your Vote Counts." – Published originally for Bolling AFB Newspaper but later published worldwide on Air Force Link website.
2003 – "The Cognitive Science of Deterrence and War-fighting: Towards a More Realistic Military Psychology." Co-authored with Dr. William Casebeer. Institute for National Security Studies. Presented at the INSS Conference and the American Political Science Association National Conference.
1997 – Master's thesis, "Against All Odds: The Struggle for Women's Rights in Latin America," Washington University in St. Louis
1993 - "Adding Communication to Debate," - published both in the National Journal of the Speech Communication Association and the first issue of the Western States Parliamentary Debate Association Journal. (Presented the paper at both associations' conventions).
1992 – "To Heal a Nation." Book Review. Airpower Journal