Dr. Sam Minner, Jr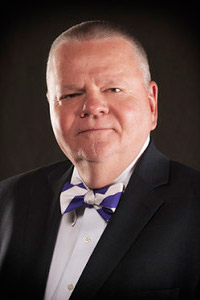 New Mexico Highlands University

Dr. Sam Minner, Jr. was born in Collinsville, Illinois. His mother, Betty, was a homemaker and his father, Sam, worked as a miner, a soldier, and for most of his life, a steelworker. Dr. Minner attended Southern Illinois University at Edwardsville where he earned undergraduate and graduate degrees. He later graduated from the University of Arizona – Tucson where he earned a Ph.D. in cognitive disabilities. Dr. Minner worked as a faculty member at the University of Arizona and later, at Murray State University in Murray, Kentucky. Missing the Southwest, Dr. Minner returned and took a position at Northern Arizona University where he began his administrative career serving as Coordinator of Grants in the Center for Excellence in Education (CEE), Interim Associate Executive Director of the CEE, Department Chair, and other administrative postings.
While at NAU, Dr. Minner wrote and or managed numerous grants and special projects serving Native American and Hispanic students throughout Arizona. Dr. Minner was recruited from NAU to a fixed-term endowed professorship, the James H. Quillen Chair of Excellence in Teaching and Learning at East Tennessee State University. While at East Tennessee State, Dr. Minner was responsible for assisting faculty with teaching and scholarly work as well as writing grants to support the mission of the institution. He left East Tennessee State in 2000 to assume the deanship of the Division of Education at Truman State University, a premiere public liberal arts school in Kirksville, Missouri. While there he was tapped to serve as the Founding Dean of the School of Health Sciences and Education. Most recently, Sam served as the Provost at Virginia's Radford University, a public university serving approximately 10,000 students. He became the President of New Mexico Highlands University on July 1, 2015.
Dr. Minner and his wife Joan reside in the university residence in Las Vegas. Joan is a former special education teacher, K-12 administrator, and faculty member. She is a fierce fiber artist devoting much of her time to knitting, quilting, felting, and other fiber projects. Sam and Joan are parents to one daughter, Brook, who is married and resides in Maine. Brook is the Director of Northeast Historic Film, a nonprofit agency focusing on the preservation of early New England films. Brook is a graduate of Agnes Scott College, a private women's liberal arts college near Atlanta, GA. Brook and her husband have one child, Mabel, age six and all that that implies. Sam and Joan also have a son, Sam Wolfe Minner, who is a second year law student at the University of Missouri.
When Sam is not working, he enjoys any outdoor activity, particularly fly fishing. He also enjoys reading, film, Americana music, and spending time with his family and friends.