Dr. Stephen Wells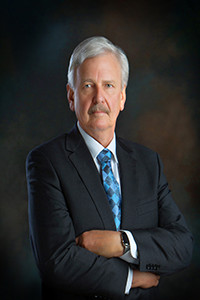 New Mexico Institute of Mining and Technology

A new chapter in the history of the New Mexico Institute of Mining and Technology began with Dr. Stephen G. Wells officially beginning his duties as the University's 17th president.
Dr. Wells is the first new president at New Mexico Tech in 23 years and has strong ties to the Land of Enchantment. He served on the University of New Mexico faculty for 15 years earlier in his career and has worked at Los Alamos National Laboratories.
"To be back in New Mexico is a dream come true, Dr. Wells said. "And to be part of the Socorro community is something we look forward to – helping grow the university, the community and the state."
Dr. Wells also brings a wealth of experience with over 37 years in higher education and track record of steady leadership to New Mexico Tech, having most recently served as the president of the Desert Research Institute in Nevada for the past 17 years.
Dr. Wells succeeds Dr. Daniel H. Lopez, who had served as New Mexico Tech's President since 1993.
"I truly believe the Board of Regents have selected a great leader," Dr. Lopez said.
Dr. Wells said he is looking forward to making a smooth transition in leadership at the university.
"I've had a wonderful transition," Dr. Wells said. " President Lopez and the staff here have been great. I've been back three times before starting this position, working with them and getting to understand their priorities and how they're approaching our strategic plan. I really look forward to diving in and working with them."
There will be many firsts on Dr. Wells' schedule in the weeks ahead, including a number of meet and greets with the faculty, staff, students, alumni, community leaders and heads of industry, with a heavy emphasis on listening and learning about issues the campus community feels are important. The first group he met with was his administration.
"I cannot think of a greater opportunity than to lead this excellent institution," he said. "My wife and I are thrilled to be returning to New Mexico and becoming a part of the New Mexico Tech community and the Socorro community. We are ready to roll up our sleeves and build on the solid foundation that Dr. Lopez has built at Tech."
While Dr. Wells' first official day began with a move into his second-floor Brown Hall office, he has been preparing to be New Mexico Tech's leader since being selected for the position in February.
"It's an honor and a privilege to lead an institution such as New Mexico Tech that is not only internationally recognized for the quality of students it produces, but also for its significant scholarly achievements," Dr. Wells said. "I have had the privilege of working with New Mexico Tech alumni and they are phenomenal individuals."
Wells also places great importance on being connected with the New Mexico tech students. "For me, the singular aspect is to understand the heart of the institution," Wells said. "That comes with interacting with students, faculty and staff, and come to that understanding in a way that it can be enhanced and valued at a higher level.
"I want to take advantage of every opportunity to get to know students. That includes sitting on the lawn with them, being at the Fidel student center, having them come to my office, or meeting with the student organizations. They are the reason we're here."
The Board of Regents selected Wells as the new president in February to a packed house of faculty, students, staff, local residents, and the media. Board or Regents Chair Deborah Peacock said, "Dr. Wells understands how universities fit in with the community, state, national and international environments – and with other universities, community colleges and K-12."